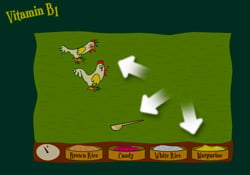 Stear the spoon with the arrow keys.
1. Put the food containing lots of vitamin B1 onto the spoon and take it to the chicken that look most in need of feeding.
2. To feed the chicken, make sure you position the food next to the beak.

You can only feed the chickens when they are alive and are standing. If you collide with a running chicken, the food will fall off the spoon.