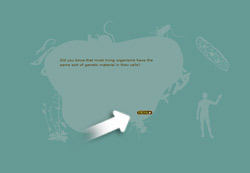 1.
Read the introductory text and click on "Next" to start the game.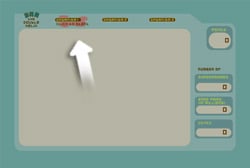 2.
Click on the flashing "Organism 1" button.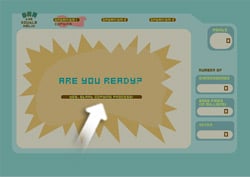 3.
Click on "Yes, start the copying process".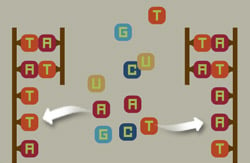 4.
ake copies of both strands of the DNA molecule by dragging and dropping the correct bases onto each DNA strand to form matching base pairs. Remember, A (Adenine) always pairs with T (Thymine), and G (Guanine) always pairs with C (Cytosine). U (Uracil) is not used in DNA molecules.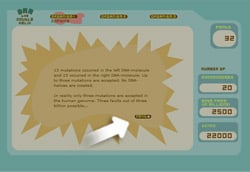 5.
Click on "Next".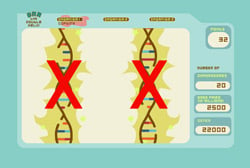 6.
If you make more than three mistakes (mutations) on each strand, the DNA molecules will be destroyed and you will not receive any bonus points. If you make less than three mistakes on each strand, the DNA molecules will be replicated. If you make no mistakes at all, you will receive 200 bonus points.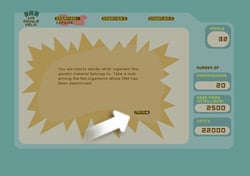 7.
Click on "Next".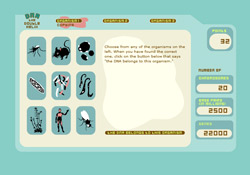 8.
Click on the small images to read about the nine different organisms. Compare the facts given in the text with the facts in the right-hand menu (Number of Chromosomes, Number of Base Pairs, Number of Genes). When you have decided which organism corresponds to the facts available, click on "The DNA belongs to this organism". If you're right, you'll be awarded 150 bonus points.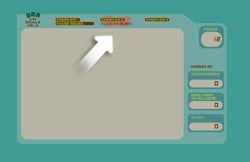 9.
Continue the game for two more organisms to see how many points you can earn!
KEY
Malaria mosquito: 5 chromosomes, 278 million base pairs, 13 700 genes
House mouse: 20 chromosomes, 2 500 million base pairs, 22 000 genes
Bakers' yeast: 16 chromosomes, 11.7 million base pairs, 6 300 genes
Mycobacterium tuberculosis: 1 chromosome, 4.4 million base pairs, 3 900 genes
Escherichia coli bacteria: 1 chromosome, 5 million base pairs, 4 300 genes
Malaria parasite: 14 chromosomes, 22.7 million base pairs, 5 300 genes
Thale cress: 5 chromosomes, 125 million base pairs, 25 000 genes
Human being: 46 chromosomes, 3 000 million base pairs, 34 000 genes
Fruit fly: 8 chromosomes, 180 million base pairs, 13 500 genes
(These facts were collected in 2003, today the number of genes in humans is considered to be about 25 000.)