The Trade Ruler Game - Help
You are to make an island (a country) prosper by trading. As a ruler of an island you want to engage in international trade in order to achieve this goal.
If you manage to trade well - your island/country will prosper. You can hit the highscore – "All-time high" or "Highscores of the week".
The most important  factor in achieving  a good result in this game, is to start by choosing the ultimate trade partner/island. This ultimate trade partner is one that differs as much as possible from your own country's amount of labor and capital. So if your country has a lot of labor, then your ideal trade partner would have a lot of capital.
Good to know before you start
Some goods require more capital (technical equipment and machinery),  and are called capital-intensive. An example of such goods are cell phones.
Other goods require less production equipment and rely mostly on labor (the efforts of the workers). These goods are called labor-intensive. An example of such goods are textile products such as jeans.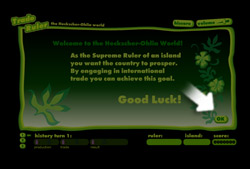 1.
Click on "OK" to move on.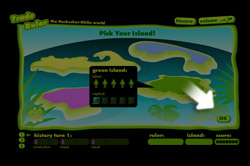 2.
Move the mouse cursor over the four different islands to see what the differences are. Choose one of the four islands to trade with by clicking on it. Then click "OK" to move on.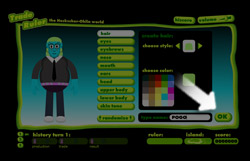 3.
Create yourself by clicking on the buttons referring to your looks. Or, click on the "randomize" button. Fill in your name before you eventually click on "OK" in the bottom right corner.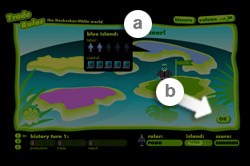 4.
a) Move the mouse cursor over your own country/island to see if you have much capital or much labor. Choose a trade partner that differs from your own by clicking on that particular island. (The bigger the difference, the bigger potential gain from trade.)
b) Click "OK" to move on.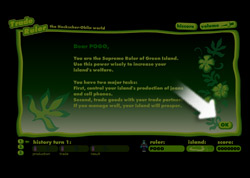 5.
Click on "OK" to move on.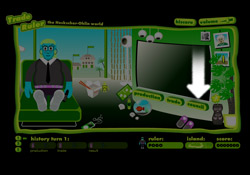 6.
For clues click on "council". If it says "Try to predict how our trade partner will produce", it means you have to recall whether you picked a capital-intensive or a labor-intensive trade partner. If your trade partner owns a lot of capital, they will produce more cell phones than jeans. Therefore they will be interested in buying jeans from you. This means you should start producing many jeans so you can sell them to your trade partner later on.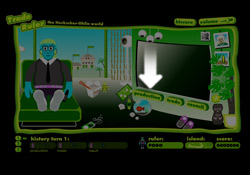 7.
Click on "production" when you want to start playing.
(The challenge for you will be to adjust your country's production and thereafter its trade. This procedure will be repeated three times before the game is over.)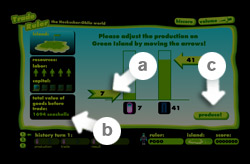 8.
a) Adjust production by moving one of the arrows up or down.
b) Take a look at the "total value of goods before trade" at the same time – it will give you a hint on how you should divide your production of cell phones and jeans. You will see the ultimate adjustment when the highest value of the goods is indicated in seashells (your country's currency).
c) Click on "Produce!" when satisfied with your adjustment.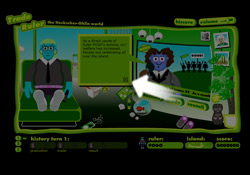 9.
The news commentator will report on changes in society due to your production plan.
Click on the cross in the speech bubble when you want to move on.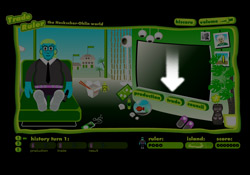 10.
Click on "trade".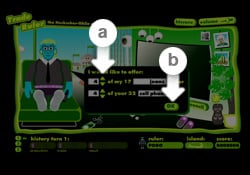 11.
Adjust the numbers and the products to make a trade offer to your trade partner. Then click "OK".
Now you will find out whether your trade partner will accept your offer or not.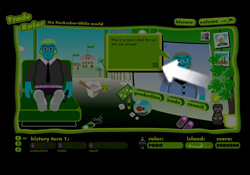 12.
After closing the speech bubble, the your country's citizens will react on your moves.
If welfare has increased, people will celebrate. If welfare has decreased, your citizens will be angry.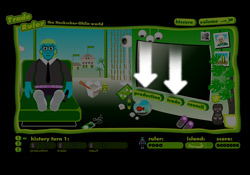 13.
Now, make two more adjustments with your production and two more trade offers.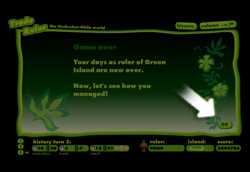 14.
Click on "OK" to move on.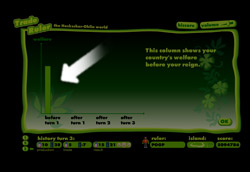 15.
This bar shows the welfare in the country before you started as a ruler.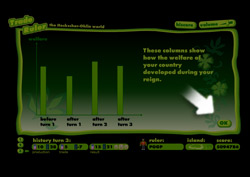 16.
These bars show how welfare in your country developed during your reign. Click on "OK" to move on.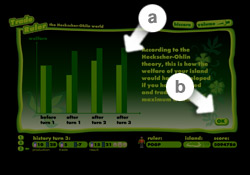 17.
a) This is how welfare in your country could have developed had you produced and traded for maximum welfare (according to the Heckscher-Ohlin theory).
b) Click on "OK" to move on.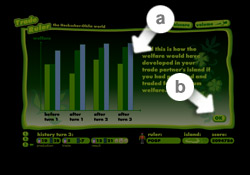 18.
a) Look at the bar to the right to see how  welfare would have developed in your trade partner's country,  had you produced and traded for maximum welfare (according to the Heckscher-Ohlin theory).
b) Click on "OK" to move on.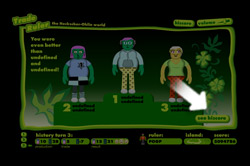 19.
Click on "see highscore".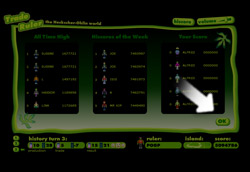 21.
Click on ok.
Copyright © Nobel Media AB 2018
To cite this page
MLA style: "The Trade Ruler Game - Help". Nobelprize.org. Nobel Prize Outreach AB 2022. <http://nobel-external-educationalgames-app.azurewebsites.net/educational/economic-sciences/trade/help.php>